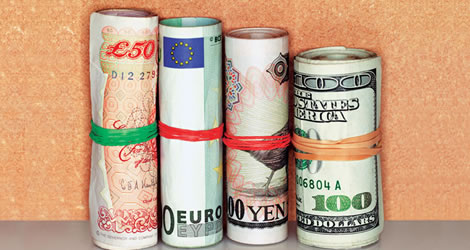 RETAIL FOREX – PICK & PACK CURRENCY
We've made it more convenient for you to exchange foreign currency right here at our office.
CIMB Bank now offers travellers an added convenience. When you're at the travel agency booking your travel packages, you can purchase the foreign currency you'll need for your destination at the same time. You have the option of picking up your foreign currency directly from the travel agent or from our CIMB Bank Bureau de Change when you are at the airport.
Currency exchange at competitive rates
29 foreign currencies available
| | | | |
| --- | --- | --- | --- |
| US Dollar | Saudi Riyal | Swedish Kroner | Indian Rupee |
| Euro | Swiss Franc | Brunei Dollar | Chinese Renminbi |
| British Pound | Canadian Dollar | Emirates Dirham | Hong Kong Dollar |
| New Zealand Dollar | Korean Won | Japanese Yen | New Taiwan Dollar |
| Australian Dollar | Danish Kroner | Thai Baht | South African Rand |
| Singapore Dollar | Norwegian Kroner | Indonesia Rupiah | Qatar Riyal |
| Sri Lanka Rupee | Pakistan Rupee | Macao Pataca | Vietnam Dong |
| Philippine Peso | | | |
All it takes is 2 simple steps
Place an order for the currency that you want and make payment for the amount required.
Collect* your selected currency from your travel agent or at any CIMB Bank Bureau de Change counters located at KLIA, LCCT, Penang International Airport, Kota Kinabalu International Airport, Kuching International Airport or Langkawi International Airport before departure.
*Currency collection on the same day at your travel agent's office may be arranged for orders placed before 12 noon. Subject to availability. For pick up at CIMB Bank Bureau de Change, orders and payments are required before 4pm.
This service is endorsed by MATTA with a Memorandum of Understanding (MOU) signed on 4th August 2011. MATTA members can now sign up to become a CIMB Bank authorised agent and provide the CIMB Bank's Bureau de Change- Pick & Pack Currency Service to their customers.