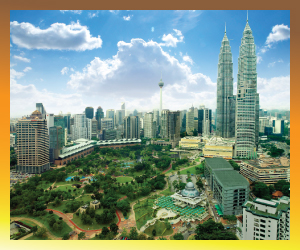 The KL Tour brings you to Malaysia's city center where you'll catch some amazing sights of heritage landmarks and architectural buildings.
[tab:Places of Interest]
Dataran Merdeka
The Dataran Merdeka or Independence Square is which is in front of the clock tower where the proclamation of Independence was declared on August 31 1957. On the same square is the huge flag post, one of the largest in the world, apart from the Moorish designed Sultan Abdul Samad building which was once occupied by the British administration.
Bird Park
The Bird Park, Butterfly Park,Deer Park and Hibiscus and Orchid Park is in the heart of Kuala Lumpur is a wonder in a tropical paradise not to be missed by all. Located in the serene and scenic famous Lake Gardens, the K.L. Bird Park is also well known as "Free-flight Walk-in Aviary", offers a 20.9 acres of verdant valley terrain to be explored.
Parliament House
As you travel along Jalan Parliament or Parliament Road and towards the Lake Garden, is the Parliament House. The Parliament of Malaysia is the national legislature of Malaysia, based on the Westminster system.
National Monument
As you travel along Jalan Parlimen and towards the Lake Gardens, close to Parliment House stands the National Monument or Tugu Negara. Within the National Monument grounds is one of the world's largest free-standing bronze sculptures. It was sculpted in 1966 by Felix de Weldon, who was also the creator of the famous Iwo Jima monument in Washington DC.
Petronas Twin Towers
The Petronas Towers also known as Twin Towers were the world's tallest buildings before being surpassed by Taipei 101 and the Burj Mubarak al-Kabir, However, the towers are still the tallest twin buildings in the world at the height of 1482.6ft. They were the world's tallest buildings from 1998 to 2004 if measured from the level of the main entrance to the structural top, the original height reference used by the US-based Council.
Kuala Lumpur Tower
The Kuala Lumpur Tower (officially known as Menara Kuala Lumpur; referred later as KL Tower) is a tall tower located in Kuala Lumpur. Its construction was finished in 1994. It is used for communication purposes and features an antenna that reaches 421 m (1,381 ft), which currently makes it the eighteenth tallest freestanding tower in the world. It contains a revolving restaurant, providing diners a beautiful view of the city. Races are organized yearly where participants race up the stairs to the top.
Chinatown
Petaling Street a Chinatown located in Kuala Lumpur. Haggling is a common sight here and the place is usually crowded with locals as well as tourists. The area has dozens of restaurants and food stalls, serving local favorites. Traders here are mainly Chinese but there are also Indian and Malay traders.

[tab:Galleries]
Image Galleries
[tab:END]