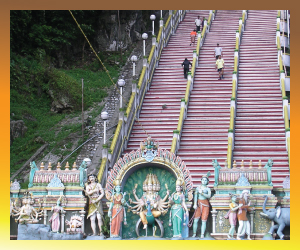 The Country Tour brings you to Malaysia's outer rim of the city center where you'll catch some religious and scenic view of the highlands.
[tab:Places of Interest]
Batu Caves
The Batu Caves are the sacred place for the Hindu's in Malaysia. They were discovered and installed as a temple in the year 1892 by a man called Thamboosamy Pillai, he was inspired by the 'Vel'-shaped entrance of the main cave and was inspired to dedicate a temple to Lord Muruga within the caves. To reach it, visitors have to climb a steep flight of 272 steps. Since 1892, the Thaipusam festival in the Tamil month of Thai (which falls in late January/early February) has been celebrated there.
Genting Highlands
Genting Highlands is about 1850m above sea level; it is a mountain peak within the Titiwangsa Mountains on the border between the states of Pahang and Selangor. It is also accessible by the world's fastest and South East Asia's longest cable car. Currently, this resort is being lead by Lim Goh Tong's son, Lim Kok Thay.
[tab:Galleries]
Image Galleries
[tab:END]