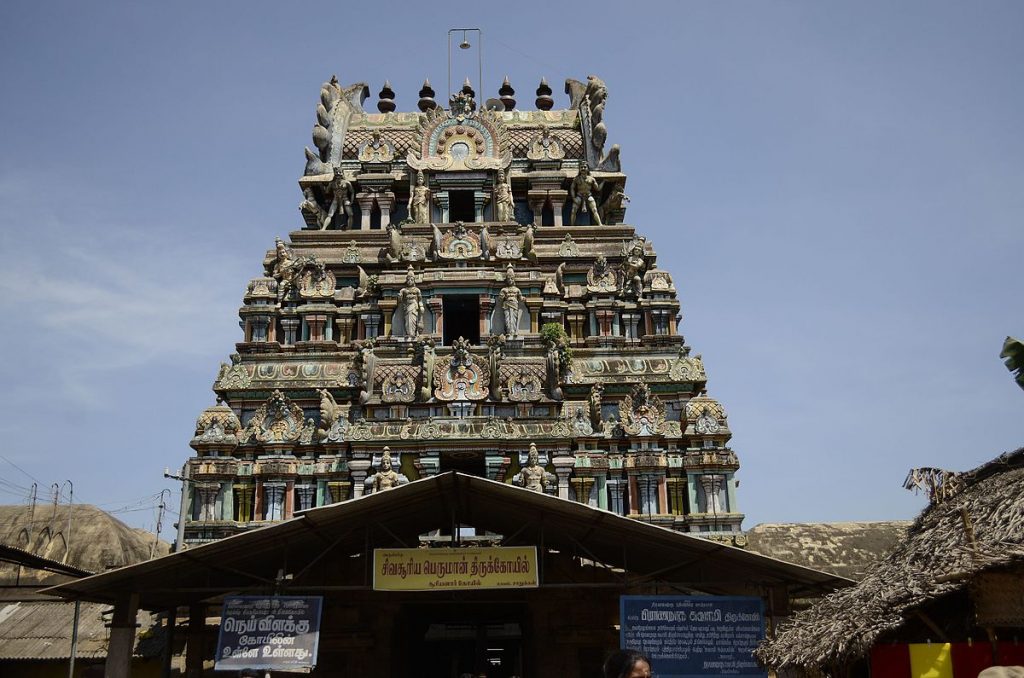 Navagraham temples in Tamil Nadu is a set of nine Hindu temples, each dedicated to one of the nine planetary deities. The Navagraham is located in various places around the South Indian town of Kumbakonam. The presiding deity in most of the temples is Shiva, with a shrine dedicated to the planetary deity. Apart from Thirunallar Saniswaran Temple which is located in Karaikkal, all the other eight temples are located within Kumbakonam.
The list of temples are as follows:
Suriyanar Kovil, Thanjavur (Suriyan)
Sri Kailasanathar Temple, Thingaloor (Chandran)
Vaitheeswaran Kovil, Nagapattinam (Sevvai)
Swetharanyeswarar Temple, Thiruvenkadu (Budhan)
Apatsahayesvarar Temple, Alangudi (Guru)
Agneeswarar Temple, Kanchanur (Sukkiran)
Saniswaran Temple, Thirunallar (Sani)
Sri Naganathaswamy Temple, Thirunageswaram (Raghu)
Naganathaswamy Temple, Keezhperumpallam (Kethu)
The temples are a part of the popular Navagraham pilgrimage in Tamil Nadu. It is believed that the planetary deities were cursed by Brahma to dwell in Vellurukku Vanam, the white wild flower jungle and were blessed by Shiva to make it their abode to devotees. The temples have six daily rituals at various times from 5:30 a.m. to 9 p.m., and two yearly festivals on its calendar. The temples are maintained and administered by the Hindu Religious and Charitable Endowments Department of the Government of Tamil Nadu.
View the route map of the Navagraha Temples here. You can also read more about these temples here.
Itinerary
Day 1 Arrival transfer to Kumbakonam (No Meals)
Arrive at Trichy. Met by local representative and proceed to Kumbakonam. Rest of the day at leisure. Overnight stay in hotel.
Day 2 Navagraha Tour Day 1 (B/L or D)
6.00 AM – Depart to Thingaloor for Chandiran Temple Darshan
7.30 AM – Depart to Alangudi for Guru Temple Darshan
9.45 AM – Depart to Tirunageshwaram for Rahu Temple Darshan
11.15 AM – Return to Quality Inn VIHA – at leisure
4.00 PM – Depart Hotel to Suryanar Temple for Darshan
5.15 PM – Depart to Kanchanoor for Sukran Temple Darshan
6.00 PM – Depart to Quality Inn VIHA – at leisure
Day 3 Navagraha Tour Day 2 (B/L or D)
6.00 AM – Depart to Vaitheeswaran Koil for Chevvai Darshan
8.15 AM – Depart to Thiruvenkadu for Budhan Temple Darshan
9.15 AM – Depart to Keezhaperumpallam for Kethu Temple Darshan
10.00 AM – Depart to Thirunallar for Sanieeswaran Temple Darshan
12.00 PM – Return to Hotel – at leisure
Day 4 Departure (B)
Morning after breakfast transfer to Trichy airport to board your flight for your onward destination. Tour ends with sweet memories.
**Tour can be extended to spend additional days in Trichy if required.
Details
Cost Includes
Accommodation on Double sharing basis in Quality Inn Viha.
Daily breakfast
All transfer and sightseeing by Air Conditioned vehicle as per the above itinerary
Assistance on arrival and departure
Vehicle usage Driver allowance, toll, parking, fuel charge and interstate taxes. etc.
Applicable taxes for Room Rent, Breakfast and Transport
Cost Does Not Include
Train fare or Air Fare unless specified.
Special rides or Safaris and Boating charges
Charges for pooja, dharshans done at the temple, etc.
Entrance fees, Camera Fees and Guide Charges
Things of personal nature such as Laundry, telephone, etc
Any other expenses or services not mentioned in inclusions
Contact Us
Feel free to contact us for more information. We can also provide tailor made programs based on your requirements.